Custom Collegiate Apparel
Don't get lost in the peloton. Stand out as you surge to the front. We outfit some of the top collegiate clubs across the United States, and whether you need cycling apparel for a collegiate club or varsity team, we can customize a bold, unified look without sacrificing performance for style. All of our custom collegiate cycling apparel has been tested by professional riders and proven to perform in any race conditions, whether a rainy cyclocross, a 93-degree criterium, or an overcast time trial.
Connect With an Expert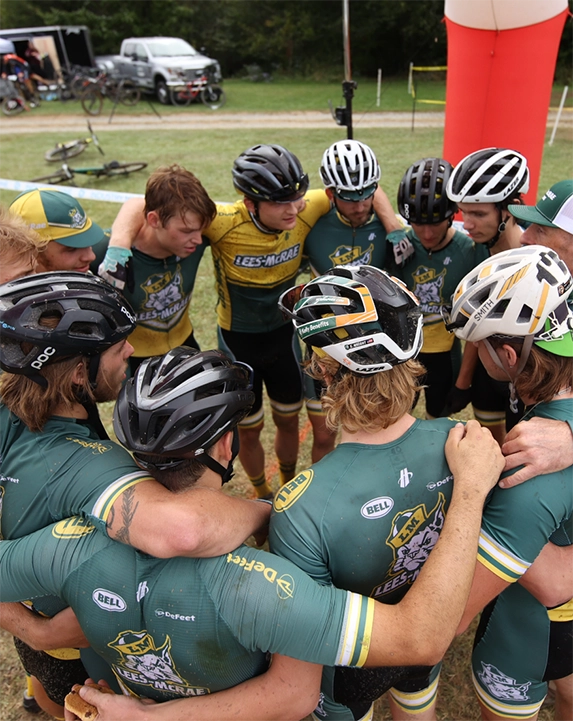 Set Your team up for success
We'll help outfit your collegiate varsity cycling team with fabrics and designs that enhance speed and endurance on the saddle or customize gear for club races, training rides, and fundraisers. We can also assist in designing your college cycling jerseys to sell in support of your club at your university or local bike shop.
Our Arrow fit is an excellent design for NCAA collegiate cyclists who compete in cyclocross, criterium, or time trials. The aerodynamic skinsuit is wind-tunnel-tested with anatomical patterns for the fit with the best performance. Our Signature fit designed by George Hincapie is a favorite of the pros, with a sleek, contoured style perfect for collegiate road racing.
Compare our custom fits to find one that works best for your collegiate team.
Explore the Catalog
Customizable Collections
Choose the line that's best suited for your riding style and climate.